Breast cancer is represented by the pink ribbon. Research is fundraised through walks decked out in pink, and breast cancer awareness gear can be found covered in slogans like "big or small, save them all" or better yet, "fight like a girl." And while the runs, marches, and merchandise can go a long way in raising money, they can also go a long way in implying some wrong information. If nearly all breast cancer awareness is geared towards women, does that mean men cannot–or do not–get breast cancer? No. Men may be less likely to get breast cancer than women, but there is still a risk.
How can you tell if a guy has breast cancer?
Breast cancer in men displays similarly to how it does in women. The symptoms are the same, and some are even more easily found due to the smaller amount of breast tissue in most men. With less breast tissue, lumps are more easily noticed and therefore diagnosed.
The most common symptoms of male breast cancer are:
Scaling, flaking, or redness of the skin of the nipple; can show as puckering or dimpling as well, or can happen to the skin over the whole breast, not just the nipple.
A painless thickening, swelling, or lump in the breast.
Nipple discharge, retraction, or ulceration.
Pain or pulling in the nipple area.
If the cancer cells spread further than the initial breast tumor, there can be additional symptoms and side effects, such as:
breast pain
bone pain
swelling in the underarm lymph glands
If anyone, no matter the person's gender, experiences these symptoms, they should speak to their doctor. The sooner any breast cancer cells can be found, the more likely any treatment options are to work, and the less rigorous treatment needs to be.
How common is breast cancer in men?
While it is commonly known that breast cancer will develop in approximately one in eight women over the course of their lifetimes, the statistics on male breast cancer are less well known. When you search google for 'how common is breast cancer,' every answer on the first page is about women. Most sites collecting data on cancer categorize breast cancer as 'female breast' cancer to clarify that their data does not include men, despite many other cancer types (stomach, colorectum, leukemia, etc.) gathering data for both men and women. While this makes it easy to do cancer research for women, it makes it difficult to find information for male cancer patients.
One source, however, found that one out of every one hundred breast cancer diagnoses is given to a man. So, while men are at less of a risk than women, there is still a chance of breast cells becoming cancerous.
The American Cancer Society did offer that approximately 2,550 new male breast cancer cases are diagnosed each year. With breast cancer being 100 times more common in women than men, and with a man's risk of diagnosis averaging around one in 1,000, it is easy to see why it's not as prominently discussed. However, the risk is still there, and men should know what to look for to minimize risk.
However, just as with women, some men have more risk factors than others. These risk factors do not guarantee that this person will get breast cancer, nor does avoiding the risk factors guarantee that the person will avoid a breast cancer diagnosis. However, if you have these factors in your history, or are aware of them, be mindful of the signs, symptoms, and possible screening guidelines for breast cancer.
What are the risk factors for men?
Some of the risk factors for male breast cancer include:
Family history of breast cancer–you have a higher chance of developing breast cancer if you have a close family member who has, or has had, breast cancer.
Age–most male breast cancer diagnoses happen after 50 and are most commonly between age 60-70. It is usually rare for a man to get breast cancer under the age of 35.
Radiation therapy treatment–having a history of radiation therapy to the chest can increase the risk of breast cancer.
Liver disease–liver cirrhosis and other liver diseases can reduce androgen (commonly referred to as male hormones) levels and increase estrogen (commonly referred to as female hormones) levels in men, increasing risk.
Testicle surgery or disease–surgical removal of a testicle (orchiectomy), testicular injuries, or testicle diseases or conditions such as mumps orchitis or undescended testicles can increase breast cancer risk.
Estrogen exposure–those who take, or have taken in the past, estrogen or estrogen-related drugs (used for hormone therapy for prostate cancer) can have a higher risk of breast cancer.
Obesity–obesity can be associated with higher estrogen levels, leading to an increased risk factor.
Enlarged breasts–having enlarged breast tissue, known as gynecomastia, can come from infection, drug or hormone treatments, as well as other causes. Having additional tissue can make it difficult to notice early signs of breast cancer.
Breast cancer genes–mutations to the BRCA1 and BRCA2 genes dramatically increase the risk of breast, ovarian, and other cancers. People of all genders should be aware of the potential danger of the mutation of these genes.
Klinefelter's syndrome–Klinefelter's syndrome is genetic and can be considered a form of being intersex. It occurs when a boy has more than one X chromosome, leading to lower androgen levels and higher estrogen levels. This increased amount of estrogen can increase the risk factor.
Can trans men get breast cancer?
Anyone can get breast cancer. However, transgender men and non-binary people occupy a unique space regarding risk factors and following the breast cancer story from start to finish. Many AFAB (assigned female at birth) men or non-binary people carry the same risk factors that cisgender (non-transgender) women have, especially if they have not taken steps such as gender-affirming surgery or hormone therapy.
Most data on the subject of transgender and non-binary people and their risk and experience with breast cancer comes from individual case studies and anecdotal experiences rather than extensive cancer research. One such study conducted in 2013 in the Netherlands examined nearly 800 AFAB trans men taking testosterone and discovered only one case of breast cancer. Overall, the study stated that "The rate of breast cancer among trans men in this study was estimated to be much lower than the rate of breast cancer among cisgender women and similar to the rate among cisgender men in the Dutch population" (1).
Do top surgery or binding affect breast cancer risk?
Binding, a practice not uncommon among trans men and non-binary people, compresses the breast tissue to make the chest seem flatter to help reflect the person's gender identity more accurately and comfortably. Binding can sometimes cause adverse symptoms such as shortness of breath, pain, and skin infections, especially when done by more risky methods (tape, ace bandages, leaving binders on for too long). However, binding has not been linked to breast cancer.
Top surgery, a mastectomy performed to align the patient's breasts and chest with their gender identity, is a different form of mastectomy from those performed for breast cancer purposes. Top surgery mastectomies remove fatty tissue but may leave behind some glandular (milk-producing) tissue and lymph vessels, where cancer may form. People who receive top surgery should still perform regular breast self-checks and discuss the risks of cancer with their doctor.
Can male breast cancer kill you?
There is a risk of death as with any cancer, depending on when the breast cancer cells are discovered. According to the American Cancer Society, the prognosis for breast cancer in men is similar to that in women. The odds of surviving five or more years after the initial diagnosis are, on average:
96%–when cancer is still only affecting the breast tissue at diagnosis
83%–when cancer has spread through the breast to nearby areas, such has the local lymph system (underarm, etc.)
23%–when the disease has spread throughout the body
Just as is recommended to women, it is essential to be aware of any changes in the breast so that if cancer cells start to grow, treatment can begin as soon as possible.
What is the survival rate of male breast cancer?
As mentioned above, 2,550 new cases of breast cancer in men are diagnosed annually. Unfortunately, this same cancer also leads to around 480 deaths in men. While this is significantly lower than the close-to-40,000 women who die of breast cancer annually, it is still a statistic that can be lowered.
Most male breast cancers are diagnosed after patients discover a lump in their chest. However, many tend to leave this concern alone until other, more severe, symptoms arise, such as blood coming from the nipple. However, by this time, the cancer has likely spread further, making the necessary treatment harsher and the risks involved a little grimmer.
By informing male patients of the possible risk factors for breast cancer, they can be more aware should they notice something out of place in their chest. Self-breast checks can be just as necessary for men, transgender, and non-binary people as for cisgender women, and everyone should have the chance to be informed of their risk.
If you have questions about your risk factors, any changes in your breasts, or simply about breast cancer, speak with your doctor, or Dr. Gorman at the Texas Breast Center is happy to help answer any questions. Her goal is to keep all patients informed and prepared.
Gooren LJ, van Trotsenburg MA, Giltay EJ, van Diest PJ. Breast cancer development in transsexual subjects receiving cross-sex hormone treatment. J Sex Med. 2013;10:3129-34.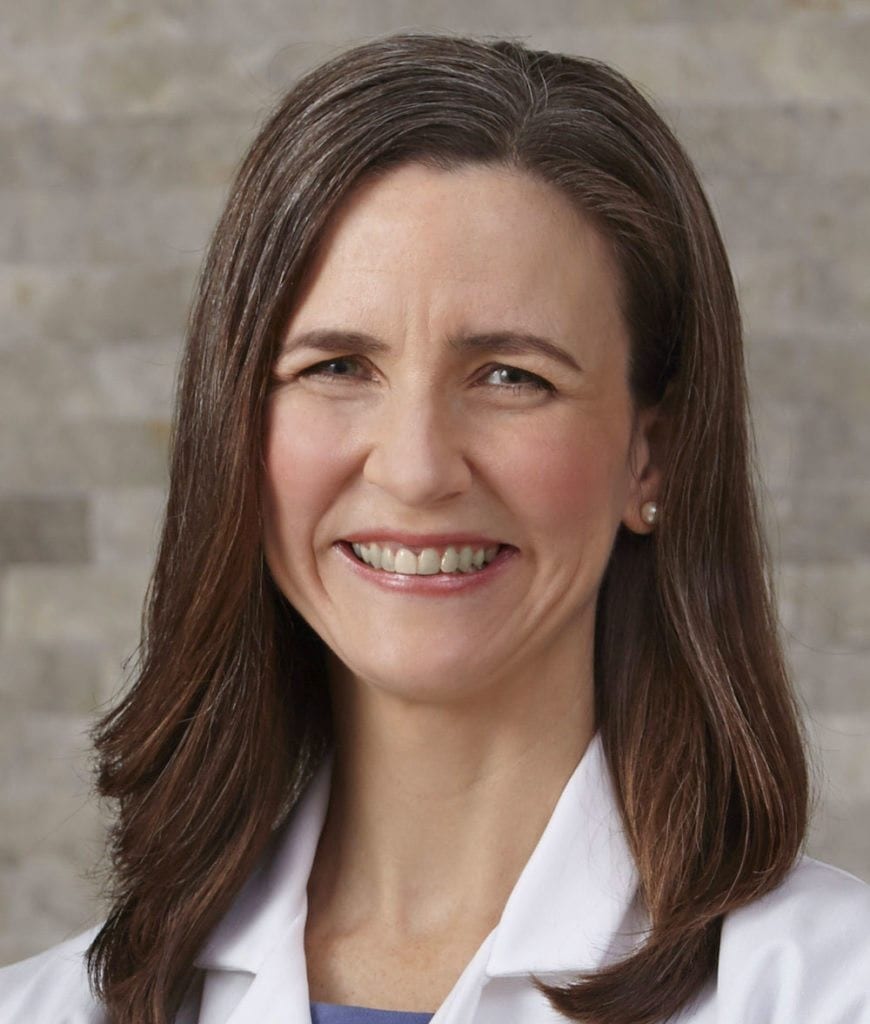 Valerie Gorman, MD, FACS, is a breast cancer surgeon. She is board certified by the American Board of Surgery and serves as Chief of Surgery and Medical Director of Surgical Services at Baylor Scott & White Medical Center – Waxahachie.
Certificate, Physician Leadership Program, Southern Methodist University, Dallas, Texas (2010)
M.D., University of Texas Southwestern Medical School at Dallas, Texas (June 1999)
B.S., Biola University, LaMirada, California, (1994) Magna Cum Laude
Major: Biochemistry
Residency in General Surgery, University of Texas Southwestern Medical Center at Dallas, Texas (June 2004)